Expert Roofing Services in Annapolis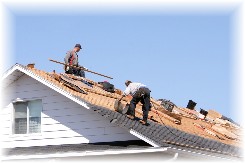 Our Maryland roofing contractors are highly trained and skilled in all areas of the roofing industry. We can help you select the best roofing materials, guttering systems and siding for your home. With over 30 years of service in the roofing industry, we have some of the most hard-working, honest contractors that you will find. They will assess your home, offer affordable, up front pricing and provide you with the perfect solution that will meet your home exterior needs.

Our Annapolis Roofing Services
Why Annapolis Should Hire Us for Roofing
As a professional roofing company, our Annapolis roofing professionals has been trained extensively to do things the right way, not the easiest or cheapest way but the best way possible. Our roofing contractors have been with us for a long time, which means that their skills and workmanship exceed our demand for quality installation and safety. We always aim to surpass industry standards with our quality services that go above and beyond the manufacturer's specifications on every installation.
Recent Articles About Roofing
Asphalt Shingles Turned Green?

As Annapolis roofers, we constantly tear down old asphalt shingle roofs and then rebuild them. During our process, the old shingles are removed from the roof and disposed of. More and more people are taking a look at old used asphalt shingles for their Go-Green recycling […]

Talk Like a Pro: Roofing Terms for Annapolis Homeowners

Nobody expects Annapolis homeowners to be proficient in the different terms used in the roofing industry, but by learning a few key terms homeowners can save time, hassle and money. By knowing the correct terminology, you can communicate more clearly with your Annapolis roofing contractor, describe […]