Solar Venting Skylights In Annapolis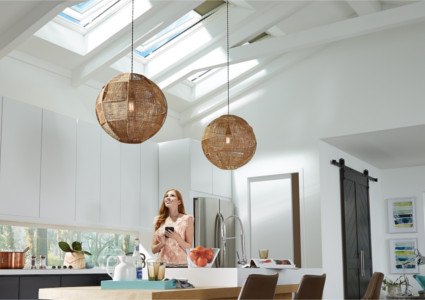 K&R RoofMasters, Inc. offers Venting Skylights in both manually operated and solar powered styles. With a small investment, you can dramatically transform any room in your home with natural daylight and fresh air.
In the long run, installing Venting Skylights will help you save on your utility bills by exhausting the hot air which accumulates near the ceiling to the outdoors. Plus, they can reduce unwanted outside noise by up to 25% less than a standard double pane glass, and up to 50% less than a plastic skylight.
Our professional Annapolis roofing contractors offer expert installation of a wide variety of skylights. If you'd like more information about the Venting Skylights we can offer for your Annapolis area home, give us a call!
Solar Shades for Venting Skylights Available
Manual and Solar Powered Styles
Reduces Noise
Increases Natural Daylight
Helps Improve Energy Efficiency
Solar Venting Skylights
You can choose to Go Solar with our Solar Venting Skylights. A battery powered operator is the power source that opens and closes this "Fresh Air" skylight. A rain sensor is built in to close the unit in the event that inclement weather arises while you're away.
It features a solar panel that captures any available daylight and uses it to recharge a highly efficient, fully concealed battery powered operator and control system. Not only will your vented skylight be operated by solar power, you'll also enjoy controlling it by using a simple smartphone app.
Solar Powered
Rain Sensors
No Leak Promise
Fresh Air
Clean, Quiet & Safe Glass