Durable Metal Roofing in Annapolis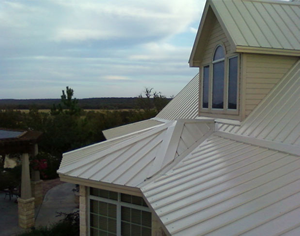 Energy-saving building materials are becoming increasingly popular to use in home renovations and roofing. Metal roofs in Maryland are known for their energy efficiency and durability. Once installed, a metal roof will help cut down on your energy bills due to their reflective nature. According to the Cool Metal Roofing Coalition and the Oak Ridge National Laboratory, reflective metal roofs can save you up to 40% in energy costs while other types of metal roofs can reduce urban air temperatures by as much as 12 ° F.
Annapolis Area metal roofing provides a durable, attractive roofing solution that comes in multiple colors, textures, and designs. It can be installed on steep-slope and low-slope roofs as well. Our professional roofing contractors will go over your metal roofing options and help you select the best one for your Maryland home. We can take measurements of your current roof and have your brand new metal roof installed in no time!

Our Annapolis Metal Roof Services
Metal Roof Installation
Metal Roof Repair
Steel Roof
Flat Metal Roof
Roof Repair
Roofing Tiles
Roof Shingles
Metal Tiles
Commercial Roofing
Roofing Panels
Standing Seams Roofs
Tin Roofs
Why Annapolis Should Hire Us for Metal Roofs
We get most of our business from referrals from our satisfied Maryland clients. We can provide you with a long list of happy clients in the Calvert County area. Our Annapolis roofing contractors work hard to provide our customers with quality roofing services that they can depend on. Moreover, our commitment to customer service makes certain that you get exactly what you expected.
---
Recent Articles About Metal Roofs
Is A Metal Roof Right For Your Annapolis Home?

So, you're in the market for a whole new roof for your Annapolis home – maybe even a metal roof. However, before settling on this roofing option, you need to ask yourself whether it's right for you. You can answer that question by learning the major […]

The Ventilation Of Your Metal Roof

One thing you must know about the metal roofing on your home is how you can ensure proper ventilation because a metal roof with insufficient air circulation can experience many problems, such as heat and moisture accumulation, mold and mildew growth, and poor energy efficiency. If […]