Your Annapolis Skylight Installation Contractors
If you are looking for a local contractor to install skylights, K&R RoofMasters, Inc. is your installation specialist. Our contractors install a wide variety of different styles and types of skylights for your home improvement project.
Today's skylights let more natural light into kitchens, hallways, bathrooms, and living rooms without sacrificing energy efficiency. The natural light is much preferable to artificial lighting and helps you save on the lighting bill.
Installing skylights is best left to roofing contractors like us who are trained and skilled. It is all too easy to unintentionally cause air leaks and rainwater leaks.
If you are interested in letting more natural light into your home, call us today to schedule a consultation. We would love to help you choose between all the styles and additional features available.
Fixed Skylights
Vented Skylights
High-performance Skylights
Skylights with Screens
Wireless Control Skylights
Solar Powered Skylights
Tax Credit Skylights
and more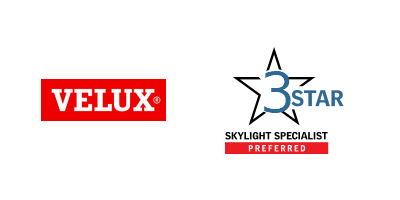 Energy Efficiency, Water Tightness, Sound Reduction
When considering a skylight for your home, don't skimp on quality. Skylights come with many options including load and wind resistance performance, UV coatings, electrochromic glass, and ventilation. There are also high-quality products that help to protect the environment by using sustainable materials during manufacturing.
Architectural Improvements
Skylights not only brighten up your home, they add impressive architectural style. There are perfect for rooms that have no exterior wall for a window. Remember, many skylights can be opened for ventilation and come in many different sizes and styles, so plan the project well.
Expert Skylight Installation
As professional roofers who install brand new roofs, we don't have any problem installing skylights correctly. We perform all work according to the most stringent building code standards and the high expectations of our customers.
Our team is committed to quality service whether we are installing skylights for you or performing any other type of work on your home.