Roof Windows Installation In Annapolis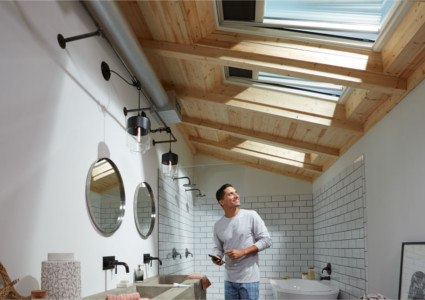 If you're looking for quality Roof Windows and expert installation in the Annapolis, MD area, call K&R RoofMasters, Inc.. Our experienced roofing contractors can help you to light up the dark spaces of your home and allow fresh air in with a variety of Roof Windows and other skylights.
Our Roof Windows are designed in a Center-Pivot, Balcony and Terrace, Top Hinged, or Roof Access style. They're the perfect way to increase your home's energy efficiency through natural ventilation. Plus, you'll enjoy beautiful natural light and panoramic views which can completely change how you enjoy your indoor environment.
Top Hinged Roof Windows
Our top hinged roof window is easy to operate, even when you have furniture placed directly under it. Since it offers easy operation, you can install it lower to get an excellent view whether you're standing and sitting down.
Top hinged windows are recommended if you need or want to place your window in a low position. For instance, they're great for rooms with a low ceiling or where you'd like a better view of the surroundings below.
High-Performance Materials
Excellent Energy Efficiency
Airtight Seal
Center Pivot Roof Windows
Our Center Pivot Roof Windows are the ideal solution for rooms with high humidity, such as kitchens and bathrooms. However, still fit in nicely in any room because of their modern and contemporary look. The center pivot style comes with a top control bar which allows you to pull it once for background ventilation and twice to open the window. It can rotate 180 degrees.
Roof Access Windows
Our Roof Access Windows are a great solution for high knee walls or anytime you need to place the window in a high position. They allow for easy roof access during maintenance, repairs, or as an emergency exit or egress window. A locking device keeps the sash open and the slimness sash and frame offers a clean, stylish look.
Roof Access Windows can be installed as left hinged or right hinged. You can let all the fresh air into your home you want without having to worry about security or bad weather, even when you are away or sleeping. Just pull the unique top control bar once and you will allow fresh, filtered air to enter through the ventilation flap.
Roof Windows with Balcony
Add extra daylight, fresh air, and get direct access to the outdoors with our innovative balcony style or terrace style Roof Windows. The balcony style lets you add an instant balcony to a loft space or two story window. Or, you can choose a roof terrace window so that you can make use of unused roof space.
These deluxe windows let you enjoy natural light and great views while letting the outside space flow into your interior. The window opens outward on its top hinges to give you extra headroom and beautiful panoramic views.