Professional Roof & Chimney Leak Repair in Annapolis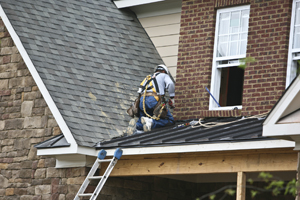 Are you at risk for roof or chimney leaks in Maryland?
Look for these signs:
Peeling wallpaper in kitchen or bathrooms
Cracked or peeling paint on walls or ceilings
"Puckered" shingles around vent pipes on your roof
Visible water marks on ceilings or walls but there are "hidden dangers" that you cannot see.

Many Maryland Area roof leaks are not detected for months …or even years! There is a potentially dangerous and costly problem lurking in our neighborhoods that you should become aware of. It has to do with what we call "roof boots". Those are coverings that go over the vent pipes that stick out of your roof. And many of them have been allowing rain to leak into homes. If your roof "boot" covering fails, the rain water could leak into your home and travel along the vent pipe. This is where the problems begin.

At some time or another, we have all wondered when that day will come when we need a new roof. But do you really need a new roof? All too often, a roofer will tell you "yes" without hesitation. But how can you be sure? After all, a simple repair may keep you and your home's contents dry for years to come.

Who knows, your roof may be in good enough shape to keep you and yours safe and sound with no need for any repair. The only way to find out for sure is to get your 17 point inspection. Then let the experts on the Roof Response Team grade your home's roof and help you decide what is best for you and your family.
Our Annapolis Roof & Chimney Leak Services
Roof Repairs
Roof Leaks
Chimney Leaks
Roofing Repair
Water Damage
Leak Detection
Flat Roofs
Metal Roofs
Roof Replacement
Roofing Installation
Leak Inspection
Roof Restoration
Why Annapolis Should Hire Us for Roof & Chimney Leaks
Price rules everything in our business – we are affordable. We're not always the least expensive but we try to provide the most accurate pricing and the best value. We also do not have a "time and materials" clause in our agreements. We quote you a real price after completely inspecting your Annapolis Area roof to understand its needs.
---
Recent Articles About Roof & Chimney Leaks
Talk Like a Pro: Roofing Terms for Annapolis Homeowners

Nobody expects Annapolis homeowners to be proficient in the different terms used in the roofing industry, but by learning a few key terms homeowners can save time, hassle and money. By knowing the correct terminology, you can communicate more clearly with your Annapolis roofing contractor, describe […]

Annapolis Roof Repairs: Recondition Your Overall Roofing

Before the rainy or winter season sets in, you have to check your roofs for any damage or leakage. Roof repairs must be done in order to keep your home warm and dry as possible. Of course, you do not want to encounter several problems that […]