Annapolis Skylight Solar Blinds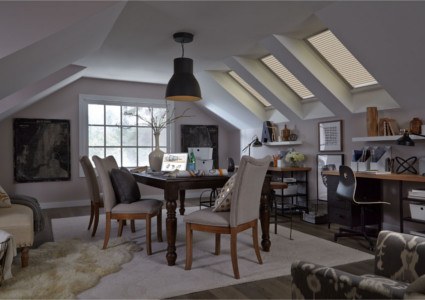 When you choose skylights from K&R RoofMasters, Inc., you'll have access to quality Solar Blinds which offer smart design and functionality to any room in your Annapolis area home. They can improve the energy rating by as much as 45%.
We install manually operated blinds as well as solar powered. An optional control rod can be purchased separately for the manual blinds. The Solar Blinds are eligible to earn a 26% solar tax credit.
Solar Blinds are powered by a battery, which is charged by the sun. This means no wiring required for the installation. They operate with the included Intelligent Touch Remote.
Solar Blinds don't just add the ultimate functionality to skylights by giving you control over the amount of light they bring into your home, they're also stylish and cost-efficient.
If you'd like more information about the wide variety of blinds we can offer with your skylight installation, don't hesitate to contact our
roofing contractors
.
Light Filtering Blinds
Our manual and solar powered single-pleated blinds are designed to fit VELUX skylights perfectly. This light filtering shade is ideal for where soft, diffused light is desired. They are available in a wide range of colors and patterns to complement any decor.
Venetian Blinds
Our manual venetian blinds are designed to allow flexible light control while still providing outdoor views. This shade is designed with an elegant aluminum that is easy to wipe clean and also provides a modest improvement to the overall energy efficiency of the skylight. You can lower or raise them manually with a stylish control bar. The slats are tilted with an award-winning control mechanism and can be set at any angle.
Room Darkening and Blackout Blinds
Our room darkening and blackout blinds are a double pleated blind which can convert day into night, blocking even the brightest sunlight, which makes it ideal for rooms that require total room darkening, such as bedrooms. Improves energy performance rating by adding blackout blinds to skylights by as much as 45%.
Choose either manually operated or solar blinds powered by a battery which is charged by the sun and won't require wiring at installation. The Solar Blinds are operated with an included keypad remote.
Solar Room Darkening Blinds (battery operated)
Manual Room Darkening Double Pleated Blinds (optional control rod sold separately)
Solar Blackout Blinds (battery operated)
Manual Blackout Blinds (optional control rod sold separately)